Make it Your Own
Change the application's name, logo, and color theme to match the identity of your brand or company. Easily customize the login page, background image, or go as far as changing the font and the loading animation — the possibilities are endless.
Your Own, Full-featured Android and iOS app
Provide your users with a cutting-edge communication app for Android and iOS devices — they'll thank you.
view_module Modules
Quick access to everything from the drawer.
inbox Email Folders
Easily browse email folders across any number of accounts.
email Emails
Clean, informational and intuitive email browser.
send Email Composer
Powerful email composer for any handheld device.
chat Chat Channels
Quick access to all private and team channels.
duo Chat, Audio & Video Calls
Real-time chat with audio/video capabilities.
folder Your Files
Access all your private and shared files from any device.
preview File Preview
Preview a file or document without any third-party apps.
text_snippet File Information
Quickly view file information and history of file activity.
contacts Contacts
Access and manage all your contacts.
Customize the Look and Feel in Detail
20 different look and feel options let you customize your app to the smallest detail.
Change
< App Name, Theme, Description, and URL >
Pick a
< Loading Animation, Font, and Theme Sentiment >
Customize the
< Login Page, News, Links, and the Logo >
Fill In
< iOS & Android App Information >
Set Up
< Push Notifications and white-labeled Screen-sharing Extension >
White-label (Branding) Add-on
— Unlimited Domains —
— Unlimited Web Versions —
— Unlimited Android Apps —
— Unlimited iOS Apps —
— Users and Resellers can have their own branding profiles —
— One add-on works for all your servers —
Frequently Asked Questions
What comes with the branding option?
Question
1. What comes with the branding option?
2. Is branding paid per server?
Answer
1. 
Branded Web/Android/iOS Apps with your custom app name, logo, and colors.
Your resellers and customers can also create their own branded versions if you allow them to do so (only web).
2. No, one branding add-on works for all server licenses under your account.
Questions about Android/iOS Apps
Question
1. You mention iOS and Android apps. Would these apps be made available on the app store with our name and logo?
2. How would our customers use these apps? Would the email settings apart from the email address and password come preconfigured? 
3. Are the app store and play store dev licensing fees included with the monthly branding fee?
Answer
1. Yes, here are some examples:

2. Yes, after the end-user installs the app from the store, they just log in once with their e-mail address and password, and everything else is preconfigured (there is no need for users to enter/know any IMAP/SMTP settings).
3. No, you pay for dev accounts to Google (one-time $25) and Apple ($99/year).
White-label CrossBox as a reseller or customer?
Question
I am a reseller with my web hosting provider. My web hosting provider has CrossBox installed since the beta. I'd like to be able to white label it under my brand. Would this be possible?
Basically my web hosting provider has their own brand on CrossBox and I have my own brand on CrossBox for my reseller account and cPanel accounts.
Answer
Yes, with a feature called branding profiles. Here is how it works.
The first step is to create an admin@domain.com e-mail address (replace domain.com with your actual domain name). If you already have it, then make sure you also have the password.
The next step is to log in with admin@domain.com to CrossBox.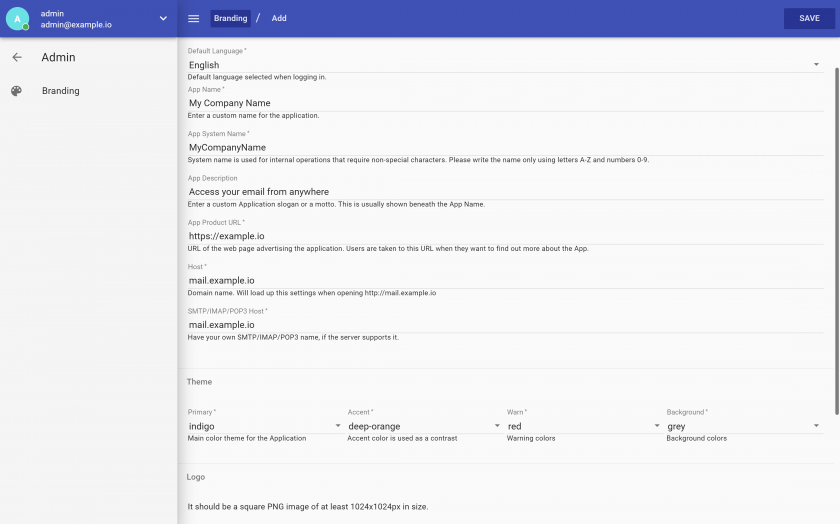 IMPORTANT: Make sure that the domains listed in the Host and SMTP/IMAP/POP3 fields have either CNAME or A record pointing to the server.
After you click SAVE, CrossBox will check for a CNAME/A record, and if the check fails, you'll get an error message:
mail.example.io hosts do not have CNAME or A record for mail.example.io or 259.69.118.111
Sometimes there may be a cached DNS response so you may want to wait before trying again, especially if you added the DNS record afterward.
After you save the branding profile, you'll be able to access the branded version by using Host for webmail and SMTP/IMAP/POP3 for other mail clients.
We do not limit the number of branded profiles.
Android/iOS apps without a white-label license?
Question
Are there Android/iOS apps without a white-label license?
Answer
No. You need to build your own apps through the Online Apps Builder.
This is because each app is bound to the owner's cluster master server and won't work with anyone else's CrossBox installation.
Will the Android and iOS apps update automatically?
Question
Will the Android and iOS apps update automatically to end-user as you guys update it?
Answer
We update apps regularly and we have a reliable update system in place to make this a painless process for both service providers and end-users.
Updates are pushed to your master and from your master to your users directly.
The whole process is automated and does not require any action on your part.
After the update is completed, you'll receive an email to your admin email address notifying you about the update being successful.
You'll be required to upload a new version to the store only when we change some low-level native behavior and that is very rare. Otherwise, the apps will be hot-updated, meaning no upload to the stores is required.